MY LEAFLETS AND VIDEOS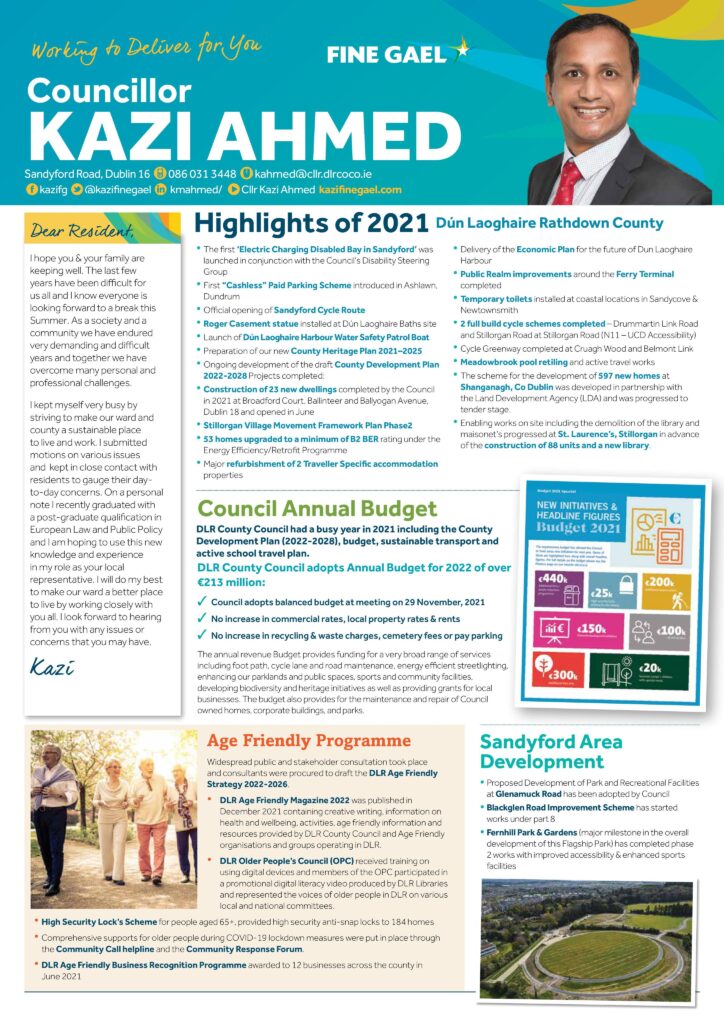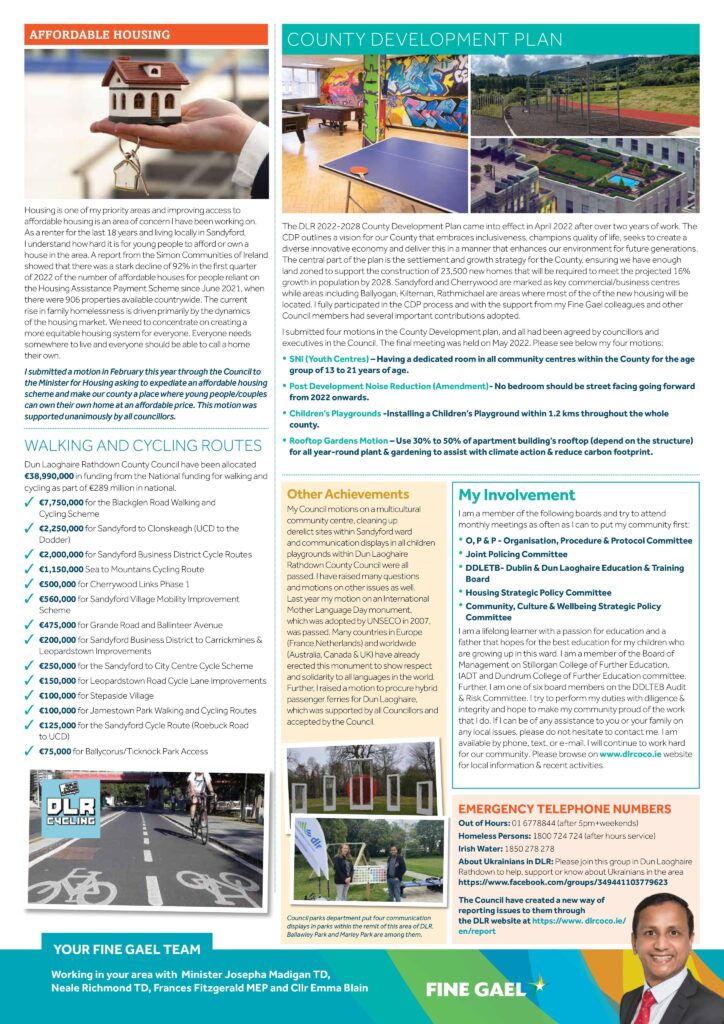 For more information about Dun Laoghaire Rathdown please visit ( https://www.dlrcoco.ie/ )
Dun Laoghaire Rathdown on social media ( https://www.facebook.com/DunLaoghaireRathdownCountyCouncil/)
Extension of current Annual Returns arrangement
On Friday, the Department of Business, Enterprise and Innovation announced that the Registrar of Companies has decided to extend the current arrangement in relation to the filing of annual returns.
The Registrar had announced in March that all annual returns due to be filed by any company between 18th March and 30th June 2020 would be deemed to have been filed on time if all elements of the annual return were completed and filed by 30th June.
The Registrar has now decided to extend this arrangement until 31st October 2020.
Children and Education
Childcare
On Friday, the Department of Children and Youth Affairs announced a number of developments to assist childcare providers and parents to plan for the reopening of services on June 29th
Expert guidance from the HSE Health Protection Surveillance Centre (HPSC) has been provided specifically for the childcare sector. This guidance focuses on a "play pod" model, which restricts interactions between closed groups of children and adults as an alternative to social distancing, which is not possible with young children.
The purpose of 'play-pods' is to limit the number of people a child has contact with, to facilitate tracing, and to support close, positive interactions between children and their caregivers. Services will now be asked to apply the guidance to their setting and determine what capacity they may offer. As services reopen, the Department of Children and Youth Affairs will keep the operation of the guidance under close review and take appropriate updated action as required. The Department also announced which children would be eligible to resume full or part-time childcare services from 29 June.
Subject to local capacity, services are encouraged to support:
· Children of health and social care workers, other frontline workers, childcare practitioners and parents who need access to childcare in order to return to work.
· Vulnerable children sponsored under the National Childcare Scheme(NCS) (for example, children who are homeless and Tusla referrals) and children funded through legacy childcare schemes who are experiencing poverty, disadvantage or child welfare issues.
· Children with disabilities who previously attended part or full-time early learning and care, including those preparing to start school in September.
· Children previously registered in childcare services on March 12, whose parents continue to need childcare for employment or training purposes and who were assured that they would retain their place through conditions attached to the Department's Temporary Wage Subsidy Childcare Scheme (TWSCS).
If capacity issues emerge, priority should be given to the children of essential or frontline workers.
Childminders will also be able to resume looking after children in the childminder's home from June 29th, while complying with HPSC advice.
Irish Water
Irish Water has confirmed that there has been a very significant increase in water usage in the past week and in particular over the bank holiday weekend. We must all
prioritise handwashing. Irish Water is today again appealing to the public and to businesses to make every effort to conserve water by discontinuing non-essential usage such as the operation
of power-washers; by using a watering can rather than a hose in
the garden; by taking showers over baths; and by fixing any dripping taps where it is possible to do so.
It is now very likely that a Water Conservation Order (a 'hosepipe ban') will be necessary to conserve water supplies as demand for water continues to soar and the drought conditions continue.
27th May 2020
National Tidy Towns competition in 2020 has been cancelled by the Department of Rural and Community Development, as a result of ongoing public health concerns. In the circumstances, the Council has decided to not proceed with the county-wide Tidy Districts Competition in 2020. There will therefore be no need to submit an application to the Council by 29th May which was the deadline date.
#glencullen #sandyford #sandyfordvillage #stepaside
#gallops #ballyogan #kilternan #carrickmines
May 2020
Financial support to local businesses affected by the Covid Pandemic.
3 month waiver of rates for certain businesses
Commercial rates for a three month period beginning on 27 March 2020 , for all businesses that have been forced to close due to Public Health requirements will be waived. The Exchequer will fund councils for this initiative.
The position post 27 June 2020 will be considered as part of a wider review of options, to support enterprises and employment, and associated local authority funding implications

Restart Fund
The technical details of the Scheme and how the fund will be administered will be developed by the relevant Government Departments in the coming weeks.
It appears that the Scheme will be linked to ongoing engagement and employment of staff and may be implemented via commercial rates rebate / waiver where businesses would receive no more than the equivalent of their 2019 rates bill capped at €10,000 per business.
April 2020
PERMISSION REFUSED
An Bord Pleanála has refused permission in respect of Strategic Housing Development case number ABP-306471-20 – Aiken's Village, Stepaside, Dublin 18.